Thrills and spills on the streets of Milan for the fixed gear cycling team
Team Hype Energy WindyMilla faced the elements for the Milan round of the 2018 Red Hook Criterium race series. Keira McVitty and Juliet Elliott had shown impressive stamina in Brooklyn for round one and both were hoping for dryer conditions in Italy.
Circuit
The 1,270 metre road circuit was always going to be a challenge and along with the heavy rain, the team would be pushed to the limit.
They were fielding two of the biggest names in cycling. Kiera McVitty,a rising star and fresh young face in British cycling since she first rode for WindyMilla in 2015. She has now become an established rider in the Red Hook Criteriums. Her cycling partner and close friend Juliet Elliot is a multi-discipline cyclist. She also competes in road, track and mountain bike races. Additionally, she was named one of Bike Biz's 'Most Influential Women In Cycling' in 2016.
The race
The rain had made it tricky at some turns and slippery manhole covers were risky to get over. Heat 1 started off well for McVitty but being under-geared, she fell short while the riders in front continued ahead. Elliot rode the second heat confidently and used these conditions to her advantage. Unfortunately, an unavoidable spill caused her to crash and lose 20 seconds. Her head, arm and thigh had taken a knock but she continued over the line despite showing signs of a concussion.
After a regroup at HQ, Elliot's physical and psychological conditions were assessed. Her bike and gear were also checked to be race ready. She made the decision to ride the final that evening. "This is my favourite race of the calendar. I'd forever regret not starting this piece of fixed crit history." she said.
Crash
Despite her crash, Elliot qualified to start the finals at row 15, with McVitty five rows behind at row 20. Both riders got off to a quick start, clipping in fast and each overtaking riders in front. The circuit had dried and this allowed for a more confident approach to the corners, making it easier for them to keep their starting pace. Elliot, in a group of 30 riders, sped through the circuit at a pace of over 40kmph. McVitty was stuck between groups for the early laps, struggling to bridge the gap to Elliot before pushing the pace at the front of a smaller group of 5 riders.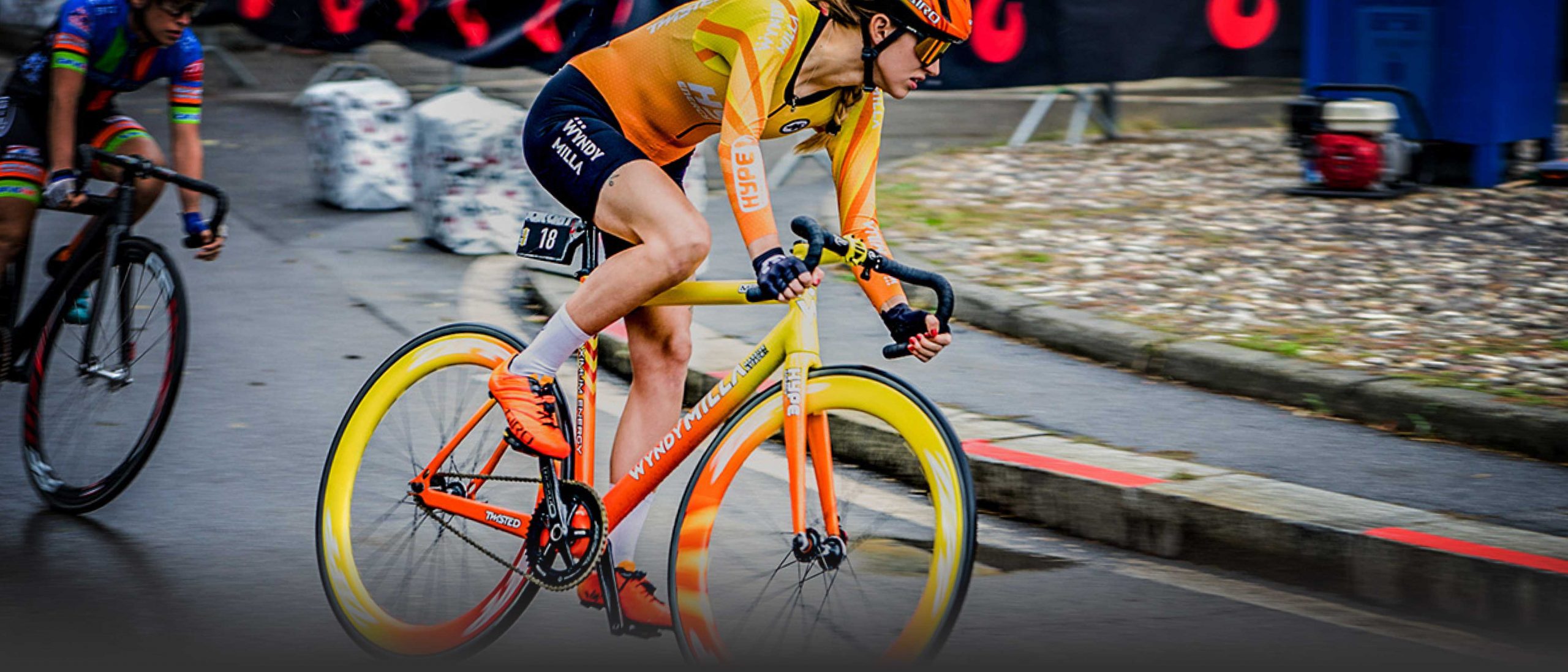 Six laps in, Elliot started to feel the effects of her earlier crash and had to pull out from the group to head into the pits. For her, the race was over. Still pleased to have made it this far, she joined the support crew in cheering on McVitty, who's small group struggled to catch up to the leading group but pushed on before being pulled from the race with only 7 laps to go. The remaining 30 riders continued on in a fierce battle with 21 year old UCI Track World Champion, Rachele Barbieri taking victory.
With Kiera and Juliet taking 38th and 58th place respectively, the result of the race had not been what they expected. Overall, It was an exhilarating experience for the racers and a classic Red Hook Criterium series.