Florian Merckx tells us first hand about his 2 wins in Singapore: "I managed to put the fastest time on track during the Free Practice session, and also during the Qualifying, which put me on Pole position for Race 1. The lap time was 2:21.6 sec, which is the fastest time ever recorded on this circuit with a Ferrari 458 Challenge," Florian said.
"I was extremely proud to win both races in Singapore as it makes me the new current leader of the championship, and also because of the exposition that a Formula 1 racing week-end brings you. All the important people of the motorsport world were there, so it was important for me to achieve a great result and get the maximum attention. I made a perfect weekend starting 2 times from Pole position, setting the fastest time of both races and getting 2 wins. It never happened to me before and I couldn't have dreamed of more!"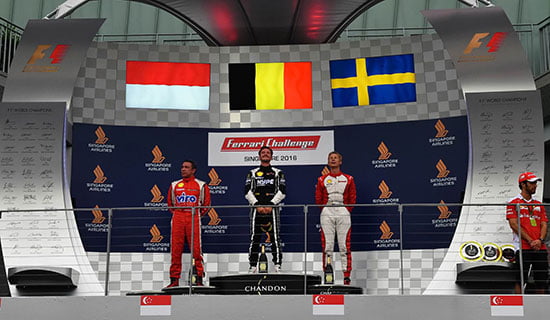 There are only 2 races left in the championship, in Japan October 14-16th, and the world finale in Daytona, USA, December 2-4th. Currently, Florian leads the Championship with 164 points; 5 points more than the Indonesian driver Renaldi Hutasoit, and 17 points more than the Australian Steve Wyatt.
Florian Merckx's History
Florian contacted Hype Energy in January for the first time through Hype's Instagram channel. He felt like Hype Energy was the perfect fit for his lifestyle, and to help him reach his fullest potential during his first PRO Class year in the Ferrari Challenge Asia Pacific .
The Belgian driver began his first year in Europe competing in the Amateur class and finished 7th. The second year the Federation decided to put Florian straight in the PRO Category, and he finished the season in 3rd place, an excellent result for an extremely challenging category.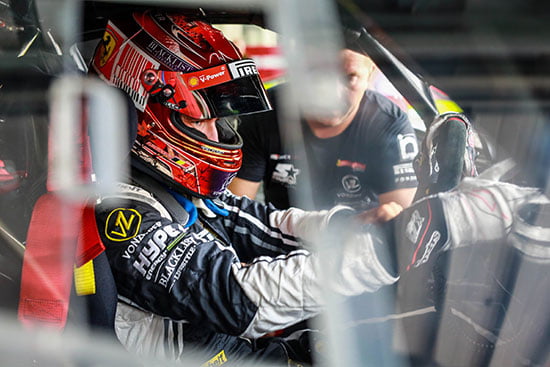 In 2016 he began competing in the PRO class in the Asia Pacific Serie, and his hard work and dedication has really paid off as he leads the Championship after 2 brilliant wins at the Marina Bay Street Circuit.
Go for it Florian! All the Hype Energy team will be supporting you in the next races. Good luck champion!