The Sahara Force India team will soon be arriving at the Circuit de Catalunya to commence the fifth race of the 2016 championship season, with a number of upgrades to the VJM09 to keep fans on the edge of their seats.
SFI drivers Sergio Pérez and Nico Hülkenberg will step into their newly-upgraded vehicle to kick off the weekend during Friday's first practice session at 10:00, with the race on Sunday at 14:00-16:00.
Sahara Force India F1 cars on the track, with Hype Energy Drinks logo on the different body parts of the racing car, like rear wing, diffuser, ect.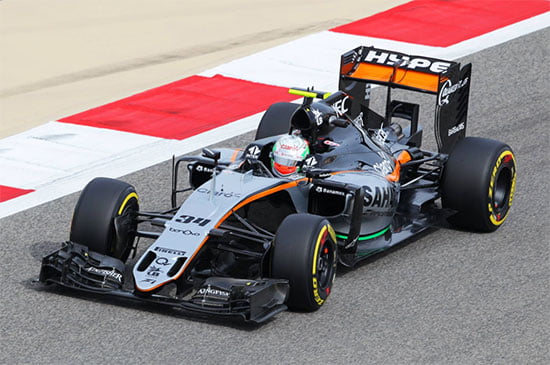 Perez feels very positive looking at the Circuit de Catalunya as he stated, "Barcelona will be the first chance to run our updated car. It's going to be a huge task to understand everything on Friday, but it's always exciting to try new parts on the car."
Nico said, "I'm looking forward to a weekend where everything goes to plan so that we can show our true potential."  The SFI team spent a couple of weeks in Spain for winter testing, helping the drivers feel knowledgeable and comfortable in the atmosphere of Barcelona.
F1 Grand Prix
As the Circuit de Catalunya will celebrate their 26th consecutive Grand Prix, the drivers also recently celebrated the milestone of their 100th race together at the Russian GP.
Warming up in the wings will be SFI development driver Alfonso Celis Jr., who will drive during the Tuesday and Wednesday testing sessions taking place the week after the race as part of his programme for the 2016 season. The young Mexican recorded 23 laps during the first practice session of the Russian GP, leaving the vehicle in perfect condition, and is ready to step back in the VJM09 for more mileage.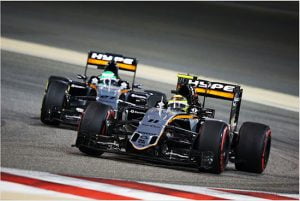 With 17 races left to go and updates coming to the VJM09, the team is looking to come back harder and stronger than ever, showing audiences what competition really is.
Show your support and follow Hype's social media channels, for Sahara Force India's latest news. This is one race you do not want to miss!