Hype Energy is pleased to announce the beginning of a sponsorship with Epsilon eSports. They are one of the Top eSports teams in the world with some of the best Halo, FIFA, SMITE, Call of Duty and Counter Strike players on the planet.
We collaborated together with Epsilon eSports for the first time at the SMITE World Championship in Atlanta, GA. Here, team won the tournament. Following this success, we supported the team again in the HALO World Championship in Hollywood, Ca, resulting in a top 8 finish.
Bertrand Gachot, CEO of Hype Energy drinks: "Epsilon eSports team has top-rated players and a strong leadership team. We feel confident they will have a successful year, and are proud to support them in one of the fastest growing sports in the world."
Greg Champagne, Epsilon eSports Managing Director: "The World of Electronic Sports will grow rapidly with support from power-house companies like Hype Energy, and we are lucky to have them on our side. They are the most premium lifestyle energy drink in the market."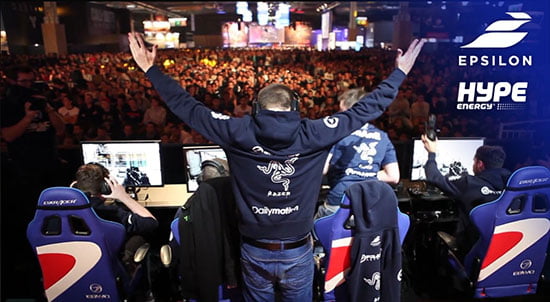 In 2015 it was reported to be over 200 million people worldwide watching competitive gaming. Demographically, major league gaming has reported 60% of viewers between the ages of 18 and 34 years.  Furthermore, most most of them are energy drink consumers.
Epsilon eSports was founded in 2008 with the goal of becoming a symbol in the world of eSports. Since that day, they have obtained the best possible results in the most prestigious tournaments.
We, Hype Energy drinks are available in over 45 countries worldwide and saw the strength in Epsilon eSports team. This since they are an international organization with star athletes from more than 20 different countries.
Make sure you watch Epsilon and Hype channels for the most interesting updates and competitions!