The Hype Energy team want to congratulate our F1 partners for such a big achievement after an incredibly successful 2016 season.
Sahara Force India confirmed its fourth place finish in the constructors' championship
after an exciting Abu Dhabi GP in which Nico Hulkenberg ended his final race for the team in seventh place, just ahead of teammate Sergio Perez in eighth. It has been a very special year for many reasons. It's been
Force India's best season ever
with a total tally of 173 points. During this year they have achieved a record 30 finishes within the top 10, 12 GP's where both drivers finished in the points, two podiums and fourth position in the championship!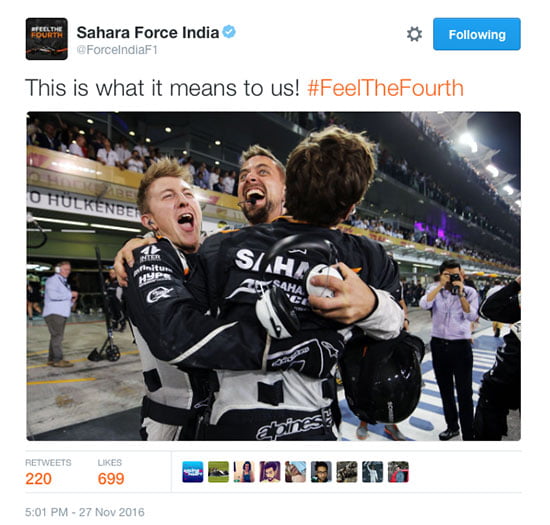 It has been an amazing journey for Sahara Force India, after humble beginnings in 2008 when they finished 10
th
, to this incredible fourth position in 2016. The team has gone above and beyond all expectations, but we are not the only ones talking about this incredible achievement. Some well known Formula 1 experts have also highlighted our F1 partners' season:
"For pounds spent in F1, they are the world champions," says Sky F1's Martin Brundle.
But just what is the secret of the Silverstone team's success? We have it clear!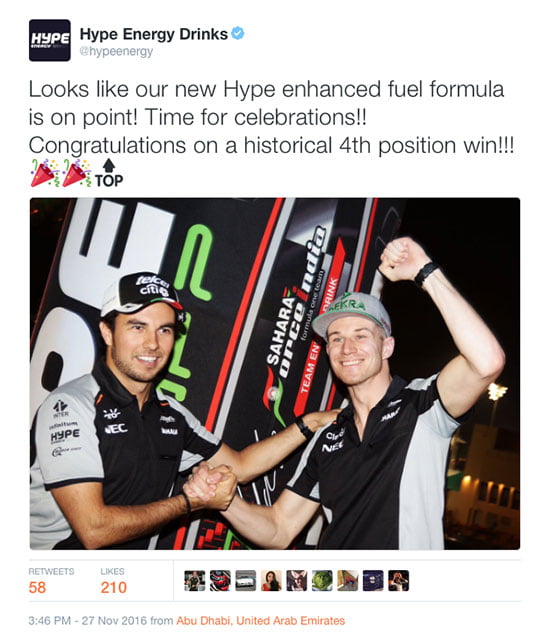 Nico Hülkenberg
Much of the spotlight was on
Nico Hülkenberg
this weekend. This years Abu Dhabi GP has been his last race as a Sahara Force India driver and he said the following: "It's great to end my time at Force India with a strong result and help the team finish fourth in the championship. Everybody deserves congratulations and big credit for the amazing job this year. I leave this team with lots of happy memories and Force India will always be a part of my life. I've learned a huge amount here and they have made me a better racing driver. We've grown up together and I'm proud of what we have achieved."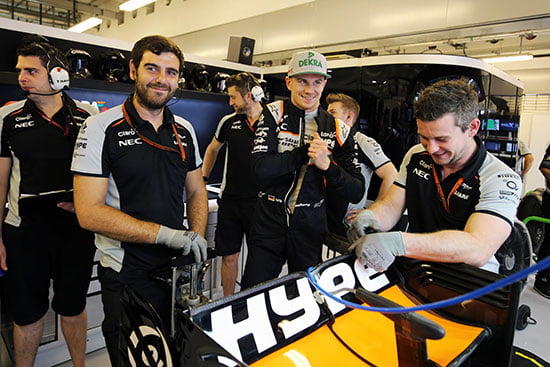 Sergio Pérez
Sergio Pérez
has also stolen many of the headlines as he had an absolutely stunning season, finishing in seventh position in the driver's standings and passing the 100 points-mark during the 2016 f1 season: "It was great to finish the season with some points and to end an incredible year with a good result. Now that the season is over, I will go back to Mexico and enjoy some rest. It's been a long and intense year and I am looking forward to some downtime with friends and family. They're going to be happy holidays, thinking about what we have achieved this year. I'll chill out a bit and then it's back to work for 2017!"
Relationship
The Hype Energy family has seen its relationship with the motorsport world improve continuously since the
announcement of the partnership with Sahara Force India in March 2015
. Many of our followers are now also keen Formula 1 fans.
Hype Energy Drinks is led by Global CEO, Bertrand Gachot
, former racing driver of the Jordan Grand Prix Team, a predecessor of the Sahara Force India Team. This has resulted in the brand having a strong heritage within the world of Formula One. With Bertrand Gachot's long career in motorsports serving as valuable experience, Hype Energy feels optimistic in continuously improving and developing the energetic partnership formed with Sahara Force India for years to come. Now it's time to celebrate a fantastic 2016; our congratulations go to the Sahara Force India F1 Team!!